Top Story: YouTube Gets Social

YouTube is getting a makeover! Yes, you heard right, YouTube is going to have a clean, simple, and more social interface than before. It's going to feel a lot like watching TV.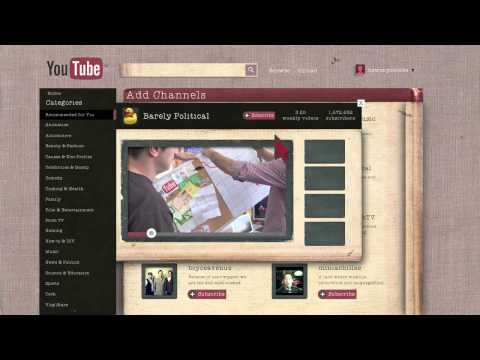 With their new design, YouTube is trying to get us to click around, stick around, and become more social on their site. And after spending some time exploring the new design, we think they'll be seeing success. However, they still have a long way to go in getting us to choose YouTube over television on a daily basis.
You can think of the new design as sort of like the YouTube version of DVR. With hundreds of new channels launching soon, (from celebrities and well-known personalities) YouTube wanted to give us a better way to organize our favorite channels, making it easier for us to watch. The new homepage succeeds in making it simple for us to see what channels we're subscribed to, which ones are recommended to us, and which are popular and trending. It also gives us a quick way to share our videos with connections on Facebook and Google Plus. Admittedly, we found that the new homepage is making it much more common for us to get sucked in and fall into that endless clicking hole – which is exactly what YouTube wants.
Will the YouTube redesign have us canceling our cable and watching YouTube channels for our television fix? Definitely not. The content on YouTube's channels is still just not as good as it is on television, though we are interested to see if channels from Ashton Kutcher, Jay-Z, and the like can change that. Also, unlike television, we still can't fall into that lazy mode, where we keep watching and watching. Even with YouTube's redesign, we still have to actively seek out and click on videos to watch. But they've certainly made that a lot easier for us to do.
Under the Radar: A Mayor Becomes a Mayor
Take a Foursquare tour of the city with Mayor Bob Buckem of Tampa, FL. Get insider tips and earn your badges!
Foursquare is all about connecting with other people. We have seen celebrities join, but for the most part they don't actually want people to know exactly where they are. Politicians on the other hand, always want citizens knowing where they are going and what they are doing for their respective cities. This is what Tampa Mayor, Bob Buckhorn, has been doing. He recently has taken it to the next level by creating a 'Tour of Tampa' within Foursquare.
There is obvious value in this for someone who is a heavy Foursquare user visiting Tampa, but what is really interesting about this is that Mayor Buckhorn has started an initiative that is really pushing Foursquare and LBS's (location based services) into the mainstream. This proves that LBS's can serve more of a purpose than just finding where your friends are and occasionally getting discounts. The more practical uses that can be demonstrated, the more people are likely to use them and in turn the more businesses will embrace it.
451 Labs Tool Review: Buffer
Never know when to publish content on your twitter feed? Buffer is a platform that is here to help you engage your Twitter followers by taking tweets and publishing them at certain times to procure the most engagement.
We certainly have enough experience with tweet scheduling services, using Hootsuite and TweetDeck on a daily basis. So, our main goal here was to see if Buffer could set itself apart from those other easy-to-use services. Buffer's main draw is that it does make scheduling tweets a bit easier. Instead of being forced to choose a specific time for each tweet we're scheduling, the service lets us pre-define the times we want our tweets to be sent out. So, all we have to do is add our text and links to the "buffer" and let the service do the rest. That is, if we want our tweets to go out at the same times every day.
We loved that there's a Buffer Bookmarklet for easy sharing. Instead of heading to Twitter.com or our preferred application, we can simply click on the bookmark extension and schedule our tweet without leaving the website we're on. We also love that Buffer's analytics allow us to see sent tweets, along with their retweets, clicks and estimated reach.
At first we were excited by Buffer's suggested tweet option. But after playing around with it on different Twitter accounts, we found that the suggested tweets were not very well-tailored to the type of content we generally tweet out. They also included many advertisements for the service. Fair enough, considering the service is free to use with 1 Twitter account and 10 tweets in a queue at a time. If you want to use Buffer with 3 Twitter accounts, schedule 50 tweets at a time, and add a team member, it will cost you $10/month.
So, does Buffer really increase clicks by 200% as many claim? We didn't see quite that high of a click-through rate, but we'll continue experimenting with Buffer. It does make timing tweets simpler. But as we've known all along, it really is about tweeting valuable content that's the most important factor in soliciting clicks and re-tweets.
According to Fantana's research, 60% of the time it works every time. (Tweet This!)
Around the Hub: 31 Nights of Lights
Boston's Prudential Center features "31 Nights of Light"
Every December the Prudential Center "lights up" to support Boston's non-profit organizations. Many of these organizations will host fundraising events at the shops to raise awareness on their cause.The Prudential Center Tower is using its colorful combination of lights (often best known for supporting the Sox, B's, C's and Pats) to support a different charity for all 31 days of December.
This is a brilliant use of the Prudential Tower, which is a landmark of Boston, because it makes use of existing resources (the lights) to help align itself with 31 great charity organizations. The Tower is seen by millions every day, and the constantly changing colors will grab the notice of many.
The Prudential Center itself does not do a large amount of marketing, so this is a good way to push out their brand image – which is focused on supporting Boston (charities and sports). The month of supporting these organizations is also a good way to tap into the large networks of all of the charities, many of which are large national groups. It looks like the Prudential Center tower has found an eye catching and relatively easyway to execute to build their brand image and support some great non-profits this winter.