When I first saw this video of a FedEx employee throwing someone's computer monitor package, I didn't think there was much to it. I was dead wrong. Like my fellow members of the Y-Generation, there is nothing a like a viral YouTube video-turned-scandal to lift your spirits. However, even with all my psychic powers (that I believe are a direct result from watching Practical Magic too much), I could not have seen the public relations bomb that was about to hit this mega courier company. Eight million hits later, FedEx realized that they have a crisis at hand.
Let me give the back story: a stupid employee, in a rush for 'outstanding' service, simply tosses a flat-screen computer monitor over a customer's gate, without even bothering to ring the bell first. Clearly, foolish people will always have jobs. I mean, Paris Hilton has her own business. Need I say more?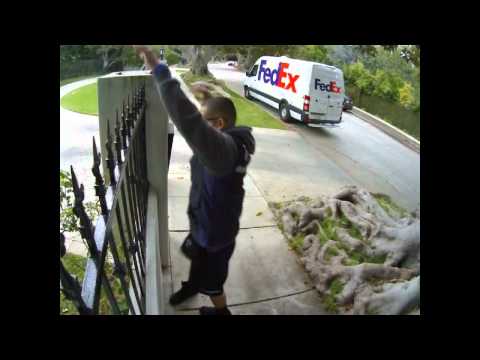 FedEx took what seemed to be the ideal route: address the problem upfront, and simply apologize.
Now while Matthew Thornton, Senior VP of FedEx Express U.S. Operations, did hit the necessary points in his web address, I would not call this a victory for FedEx as some of my fellow PR professionals have. Yes, Thornton was upfront. Yes, he apologized as soon as the video started to go viral. These points were all good things for FedEx. But many consumers and employees alike feel the video is too scripted and inauthentic. Let's just say, I wouldn't want this guy to give the speech at my wedding, no matter how many luxury homes in Spain he offered to buy me (hint, hint family and friends). The fact of the matter is that many employees and customers are taking these videos as opportunities to vent their intense frustration with the company. While this video cooled some of the fire, it hardly extinguished it. For many, Thornton's apology pissed them off even more, because it was so contrived and, to them, not genuine. Many have stories of their own about how FedEx has done them wrong.
What seemed to really bother many users was lack of disciplinary action they believe the employee received. Thornton only vaguely alludes to the fact that the employee won't be directly dealing with customers. So now he's just throwing the packages around where we can't see him? Hmmm…
Did FedEx's apology help? Yes. Was it necessary? Of course. Did the entire situation end in a victory? Now that might be going too far. Sometimes, you just can't win, even with a great PR team, and especially with a poor public speaker.
What do you think? Do you consider Thornton's video a victory, or even helpful at all? Let us know in the comments section below or tweet to us @451heat
-Ryan Schreiner, 451 Marketing Public Relations Intern
Ryan is a Junior at Boston University