Top Story: Baltimore Riots
^The woman folks are calling Mother-of-the-Year^
On April 19, a black 25-year-old named Freddie Gray died of an unexplained spinal cord injury he got while in police custody.
After his death, mostly peaceful protests broke out. However, this past weekend protests turned violent, and 16 Baltimore demonstrators were arrested, along with at least 60 in New York. After Gray's funeral on Monday, there were riots. 
It got so bad that Maryland's governor declared a state of emergency, called in the National Guard, and the city's mayor set a curfew. Some protestors were throwing rocks, looting local businesses, and setting cars on fire. Police responded with tear gas and 15 officers were injured.
President Obama condemned the violence, calling it a disservice to peaceful protesters and to Gray's family. He also called for "full transparency and accountability" in the Department of Justice investigation.
Under the Radar: Bud Light #UpForWhatever
Bud Light's #UpForWhatever campaign set off a media firestorm this week. The campaign encourages drinkers to be up for whatever when drinking their beer, because "you never know where it'll end up."
The tagline says, "The perfect beer for removing 'no' from your vocabulary for the night #UpForWhatever." Since then, there's been a storm of criticism on social media, too, where people are saying that a slogan like that promotes rape culture.
RT if you agree @budlight #UpForWhatever campaign should promote responsible – not reckless – drinking. #NoMeansNo pic.twitter.com/EFxwi2nZ4w

— Nita Lowey (@NitaLowey) April 28, 2015
I am asking @budlight to pull their #UpForWhatever campaign and donate to consent education. http://t.co/FRvjSAUAcC — Lyndsay Kirkham (@Lyndsay_Kirkham) April 28, 2015
Go home Bud Light, you're drunk: http://t.co/97RtK6QcQv

— E! Online (@eonline) April 29, 2015
Please don't be #UpForWhatever. Be "up" for what's important. Up for good people, great times, designated drivers, consent and respect. — The Beeroness (@TheBeeroness) April 28, 2015
Bud Lite Copywriter: Want to proof our new Ad Slogan ideas? CEO: Nah, I'm #UpForWhatever

— Jorja Hudson (@jorjasmic) April 29, 2015
Bud Light withdraws slogan after protests erupt in social media http://t.co/NjSNsDBuaX — The New York Times (@nytimes) April 29, 2015
No means no. We missed the mark and apologize. We've stopped producing this label.

— Bud Light (@budlight) April 30, 2015

On Tuesday, Bud Light's vice president Alexander Lambrecht released the following statement:
The Bud Light Up for Whatever campaign, now in its second year, has inspired millions of consumers to engage with our brand in a positive and light-hearted way. In this spirit, we created more than 140 different scroll messages intended to encourage brand engagement. It's clear that this particular message missed the mark, and we regret it. We would never condone disrespectful or irresponsible behavior. As a result, we have immediately ceased production of this message on all bottles.
While no new bottles will be manufactured with the offensive tagline, the brand has not announced plans to have the beer pulled from store shelves.
Tool of the Week: MKE Park
Many of us live on our smartphones. We check them first thing when we wake up, and right before we go to bed.  Many companies have managed to capitalize on this by creating apps that allow us to use our smartphones to make our lives easier.
Apps like Venmo and Squarecash eliminate the hassle of paying friends back.  With a simple swipe on our smartphones, we can send money digitally to anyone in the world.  Additionally, apps like Lyft and Uber make the process of finding and paying for a cab one seamless and user-friendly experience.
Now there's even an app to help you feed your meter.  MKE Park, powered by parent company Parkmobile, is an app that enables users to find and pay for parking spaces around the Milwaukee area.
Users simply park at a traditional meter, now labeled with a MKE Park number on a sticker.  They then put that number into the MKE App, and begin their parking "session." The money for parking is automatically taken from the user's credit card they have on file with the app.
Users don't have to deal with the hassle of finding quarters to feed the meter, or using their credit card to make a $2 meter payment. The app also lets you program in exactly how much time you plan to park for, and shows a countdown for how much longer a user has for a parking session.
See a video of Milwaukee residents using the app here: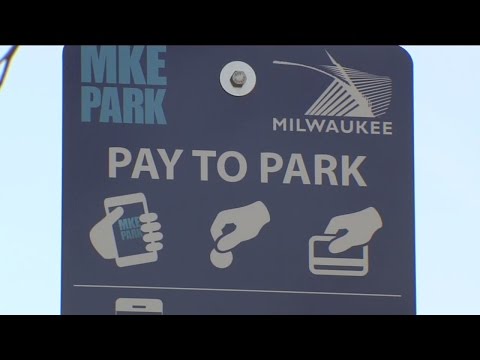 Would you use this app if they came out with a Boston version?
Around the Hub: Drinko De Mayo
With Cinco De Mayo right around the corner, Boston's Drinko de Mayo bar crawl returns this Saturday, May 2 from 12PM to 7PM.
Tickets are available online. You will need to bring either a printed Eventbrite ticket or show the app on your phone. You can also purchase them at the door on Saturday for $20.00. Tickets include $3 or less drink specials at all the bars, Sombrero, Mustache Necklace, Koozie, fake mustache, Temporary Tattoos, Limbo Contest with prizes for winners, Photo Booth and No Cover at Scheduled Bars.
Bar schedule:
Participants will receive the entire schedule when registered. All the bars will be in the Faneuil Hall and Financial District areas. Crawl in Boston is not releasing the schedule prior to the crawl, as they want to keep the event as exclusive as possible.
Remember to drink responsibly and use public transportation 🙂