Top Story: Google Integrates Google+ into Search Results
As I was scouting out a chili recipe online the other day, I was somewhat surprised to see so many Google results from people I actually know. Who knew that blogger's chili was so popular that their image is the first result to come up on Google Images? That's when I realized it had begun: Google had integrated Google+ into search. Up until now, I, like many other Google users, trusted that the search results I was getting on Google really were the top search results. But the other day, I quickly understood that the results I was getting for my chili search were showing up because I was logged in to my Google account. Results were showing up personalized just for me, not only from users I follow on Google+, but also for users it is recommended I follow on Google+. The thing is, I'm not very social on Google+. The social content that's important to me can be found on Twitter and Facebook and most of the people I trust to get me that top chili recipe aren't on Google+ just yet. Will the promise of your Google+ content showing up in the searches of others encourage you to use Google+ more actively? That's certainly what Google hopes.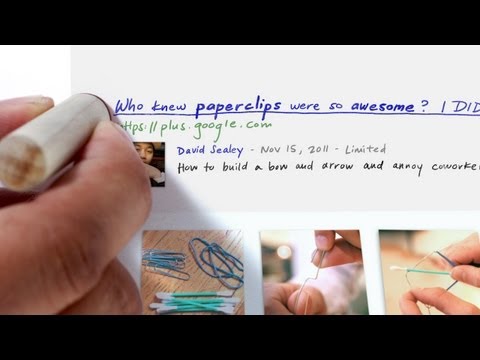 Many are upset that Google is choosing to promote content from its own service, despite the fact that it's not necessarily the most relevant content to them. And if Google wants to be trusted as the most reputable search engine, they need to be providing the best results; not the results that cater to their own commercial means. Google will argue that Facebook doesn't make its content publicly searchable and that Twitter ended their contract to incorporate real-time tweets into search results. But most of that information on Twitter is public, which means Google's crawlers could easily be bringing relevant tweets to us in their results, too. But they're not.
There is a bright side, though. Yes, if you're logged into your Google account, personal search results will automatically show up. But you can easily toggle personal results off with just the click of a button. And I have a strong feeling that's what most users will be doing.
Under the Radar: Google and the FTC
Speaking of Google, according to a report by Bloomberg, they may be in a little hot water with the FTC. Basically, Google's expansion into the social space and the implications social search implications raise concerns about anti-competitive behavior – a.k.a. all Google, all the time. Other companies and agencies, including Twitter and the Electronic Privacy Information Center, have spoken out about the narrowing of search results caused by the Search plus Your World feature. We're looking forward to seeing how this plays out. Google has been criticized before for having selective results, and this could definitely have an impact on the results the search engine returns in the future.
Around the Hub: We Take it Back, MBTA
Last week we wrote about the MBTA missing out on a big PR and social opportunity by not endorsing a Tufts graduate student's project to improve the design of an upcoming new T station location. Well, a few days after writing about this, the MBTA proved us wrong, launching its own initiative with Hubway.
Together, Hubway (the bike rental service) and the MBTA have launched the 'MBTA + Boston Bikes Developer Challenge' that crowd-sources the creation of 2 different applications and a 'visualization'. There will be a winner picked for each of the three categories, and the winner receives a one year membership to Hubway, a year of riding free on the T and passes to two food truck festivals. Those are some awesome prizes if you ask us!!
This is exactly what we thought the MBTA was missing out on doing – accessing Boston's existing creative talent to build cool new stuff while gaining positive PR for working with its customers. The more initiatives the MBTA creates like this, the less the will be slammed on social media.
The three categories are as follows:
Applications Challenge: This challenge calls on developers to create applications using MBTA data such as real-time and schedules bus, subway, and commuter rail data, together with New Balance Hubway Live Station Inventory Data to create an app, website, or other software application that provides an innovative way to access MBTA and New Balance Hubway information in real-time.
Visualization Challenge: This challenge calls on developers to create a visualization of, "A day in the life of the MBTA and New Balance Hubway" using both MBTA and New Balance Hubway data such as  historical vehicle location, for the MBTA and Hubway origin-destination data.
Bonus Challenge Bikes, Lunch, & T Challenge– This Challenge calls on developers to create innovative applications that help hungry residents learn about, locate and get to Boston′s food trucks. This app, for web or mobile, would ideally include locations of the trucks, menus, and routing information on how to get to them by walking, T or New Balance Hubway.
So, if you're a developer and want to travel Boston free for a year, get to work!
Tool of the Week: Pinterest
We'll admit it: we're addicted to Pinterest. In fact, it's an obsession for some (we won't name names) in our office. When it first came on the scene as a social tool to share images and ideas with our friends, we were on-board immediately.  Its integration with Facebook made it an awesome way to have a new conversation with existing contacts. And, due to its overwhelming popularity, Pinterest recently joined the illustrious list of the top ten social networks.
The mission of the company is simple enough: to connect everyone in the world through shared tastes and "things" they find interesting.  More recently, we've begun to think of Pinterest as a social tool for companies.  As an agency that focuses on consumer brands, having the ability to share images of your products and ideas that complement your brand in a visual way is a very appealing way for our clients to engage with their audience and help them picture their products in the home/in their closet/on their dinner table. Mashable recently released its top list of brands on Pinterest.  We put together our list of the top things we've seen brands do to leverage the hot new tool.
Clearly Defined Boards: the brands do a great job of dividing their content into themed boards, allowing users to easily follow the types of content that they want to see from the brand.
Stunning Images: people pin things they think are pretty.  Having high quality, beautiful images definitely make your pins more re-pinable.
It's All In the Details: well-written descriptions explaining the content and context of an image makes it easier for pinners to add to your pin and share with their followers.
Complementary Content: just as with any good social media communication, adding complementary content in-line with the theme of your brand is a good call.  Don't only talk about yourself: include content that contributes to the topic as a whole.
Encouraging Users to Pin Brand Content: Some brands have started to run promotions and contests that ask entrants to pin content from the brand to their own boards for a chance to win a prize. We'll likely be seeing more and more brand promotions on Pinterest in the near future.
How-tos: Many brands are using Pinterest to show users how their fans use their product. For instance, Chobani has boards devoted to photos of dishes fans have created with their yogurt.
Whole Foods Market's Pinterest page
What do you think of the new Google social search results? How does your brand use Pinterest to engage with customers? Let us know in the comments section below or tweet us at @451heat.